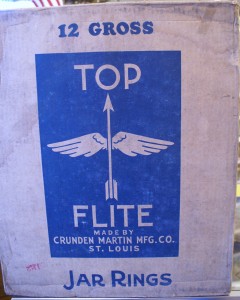 Once again, Larry Munson has surprised me with this gem: A case of 12 gross Top Flite jar rings. Hmmm… that's 12 times 12 times 12, right? 1728 jar rings or 144 full boxes.
Here's what Larry says:
"Sending a picture of a box that I have had in Storage for many years and just got it out;. The box has never been opened."
"The guy that I bought if from said he got it when a Carnival sold out, said they used them for ring toss games."
as ever
larryjar
Top Flite rings are already pretty common, but 144 mint condition boxes? Talk about flooding the market!